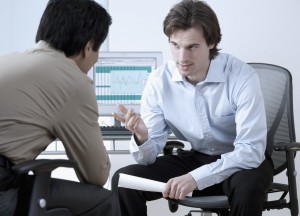 The Challenging Conversations workshop is designed to help managers at all levels build their skills and confidence in having difficult conversations with their team members, colleagues, stakeholders, etc. as and when needed.
Challenging Conversations might include:
– Raising performance or behavioural issues
– Giving 'bad news' or unwelcome decisions
– Giving difficult or 'personal' feedback
– Dealing with conflict
This workshop is designed to be highly practical and participative so that delegates can be actively involved in identifying and practising a range of skills and approaches that can be used to deal with challenging situations.
We use a small team of actors/facilitators to demonstrate situations that might be familiar to the delegates via the use of Forum Theatre and then the actors/facilitators work in small groups with participants on skills practice on a range of challenging situations that they might encounter.
Participants complete an on-line Strengths Deployment Inventory beforehand which is used during the workshop to explore different styles and approaches to dealing with conflict.